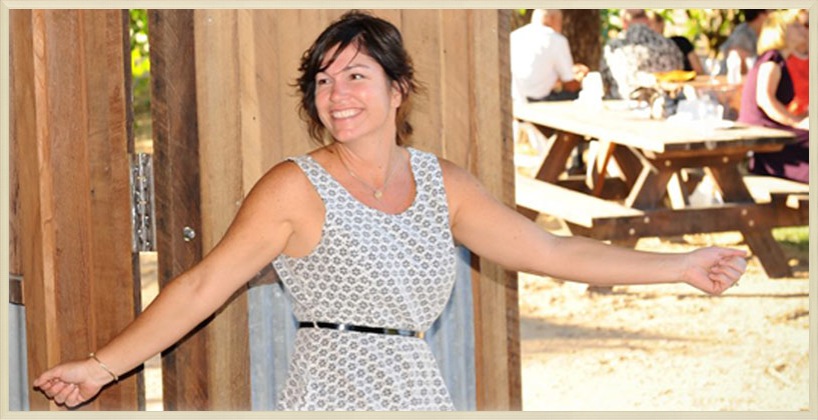 Hello Everyone!
My name is Maria, I am 4th generation here on the Testa Ranch in Calpella. I grew up on the Testa ranch with my three sisters Lisa, Gina and Kathryn. We were raised working in the grape fields; my mom loves to tell the story about when she potty trained me in the vineyards. Being that my dad had all girls, he made sure we all knew how to work in the grape vineyard.
Times were not always fun, I admit, but what I remember most are the times together with my family. Working together then washing up in the basement, having a little glass of muscatel with Papa, and sitting on the patio afterward listening to my Nonie and Papa's stories. There was always a decision to be made, and always two strong opinions… it was always entertaining! The women in my family have never held their tongue, and so it shall remain; we are right there with every farming decision, and I must say, have a sixth sense for it!
When I brought Rusty (my husband) home to my family, they fell in love with him too! My Papa got a big twinkle in his eye as he got to know Rusty. Rusty was admired for his talents in many fields: mechanic, welding, woodwork, plumbing, running equipment – JAKCKPOT!
He saw something else in Rusty too, that he was a man of pride in all he did. Rusty has taken the pride in the Testa Ranch from my elders; he worked with my dad learning to prune, helping him to plant new fields, ripping out old vines and replanting them, fixing up equipment– he is a natural farmer!
Rusty and I just celebrated our 25th Wedding Anniversary. We have raised our four children, Kasandra (23), Kortney (20), Charlie (19) and Chad (17), on the ranch also. We feel so lucky that our children have this sense of home and place. Just like me, they didn't' always like it, but it is ingrained in them and they take pride in what we do and where we are from also.
I am excited to share with you on my new "Blog"– Life on the Testa Ranch. I will share what is happening in the fields, with our wines, what I am doing in the gardens, what our kids are up to, what Rusty is working on, what events we are doing and thinking of doing! I will share what is cooking and some family recipe's if requested too! I am so blessed to have this full life! We love to share the ranch and you can come stay here too! The Testa House is a great place to bring your family and friends to live together and make memories on the Testa Ranch. People come here to stay and have loved it, they say it has a great feeling here, a relaxing feeling. And mostly I love the weddings held on the Testa Ranch, ringing in your marriage at Testa is a magical event!
I hope you enjoy my blog, my friend Joey is helping me improve our website and he wanted me to do this… I think it will be fun!!
Maria Martinson
~4th generation